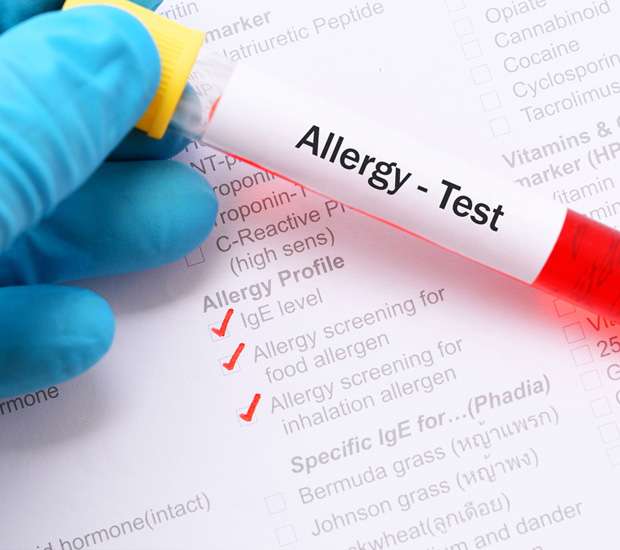 Onsite Allergy Testing
North Las Vegas, NV
WHAT IS ALLERGY TESTING: OVERVIEW, BENEFITS, AND EXPECTED RESULTS
DEFINITION AND OVERVIEW
Allergy testing is a procedure that can either be a skin test or a blood test done to determine the substances that may be causing an allergic reaction in a person. Substances that can trigger an allergic response are called allergens. Between the two types of allergy testing, skin testing is more commonly done than blood testing because of its practicality; it is easier to do, less expensive, and its results are more accurate.
A skin test is done by putting a small amount of a certain suspected allergen on the skin. The reaction that the skin will have after the administration of the suspected allergen will be observed to determine whether or not the skin is allergic to it. The substances can be administered in three ways: through a skin prick test, intradermal skin test, and patch test.
Generally, allergy testing is helpful in determining allergy treatment plans and in diagnosing allergic conditions such as hay fever, allergic asthma, dermatitis, food allergies, penicillin allergy, bee venom allergy, and latex allergy.
WHO SHOULD UNDERGO AND EXPECTED RESULTS
Anyone experiencing any allergic reaction and needs more information about it can undergo allergy testing. It is safe for people of any age, whether adult, child, or infant, unless there are specific reasons why the doctor might suggest against it. Doctors may advise against skin testing for patients who have a history of allergic reactions, are suffering from skin conditions such as eczema or psoriasis, and are taking medications such as antihistamines, antidepressants, and medication for heartburn.
The results of allergy testing can be positive, negative, or abnormal. A positive result means that the person being tested is indeed allergic to the substance used. A negative result means that the substance does not cause an allergic reaction in the patient. In some cases, however, the result may be wrong or abnormal; for example, a person may have an allergic reaction to a certain substance during the skin test, even though he is not allergic to it normally. Although skin tests have been proven to be accurate, sometimes mistakes in the process of testing may cause abnormal results. For instance, if the dose of an allergen is somehow too much, it can result in a positive outcome even if the patient is not really allergic to the substance.
Some patients may also be limited to a specific type of testing technique. Patients who cannot undergo the skin test because of their situation can take the blood test instead. Skin tests are usually best in determining airborne allergies such as allergies to pet dander, dust mites, and pollen. Allergies involving food are more complicated and might require more than a skin test. On the other hand, medicinal allergies, except allergies to penicillin, should never be observed using the skin test.
HOW DOES THE PROCEDURE WORK?
There are three different methods of conducting an allergy testing procedure. One of these three methods is the skin prick test. In this test, a small amount of a suspected allergen is placed on the forearm, upper arm, or back before the skin is pricked. Within about 15 to 20 minutes, the skin is observed to see if any kind of allergic reaction such as swelling and redness will appear. Several substances can be tested at the same time.
The intradermal skin test uses the method of injection by inserting a certain amount of allergen into the skin. Like the skin prick test, the doctor then observes the skin for any kind of allergic reaction to the substance. Usually, the intradermal skin test is used if the doctor suspects that a previous skin prick test yielded suspicious or inaccurate results.
The third technique is called the patch test. Patch testing is the ideal kind of skin test for detecting allergies that take longer to appear or manifest an allergic reaction. In this method, possible allergens are put on the skin using patches of tape. Unlike the skin prick test and the intradermal test, the doctor observes the skin, not immediately, but after about 72 to 96 hours. The patch test is useful for people who have a skin-related allergic condition called contact dermatitis.
A blood test can also detect an allergy to a certain substance. It works by examining the amount of antibodies in the suspected or affected area of the body. The blood level of a type of antibody called the immunoglobulin E or IgE is measured when the body responds to a certain allergen. Patients with allergies or asthma often have high IgE levels.
POSSIBLE RISKS AND COMPLICATIONS
Patients should expect to experience unpleasant feelings during an allergy testing. Since allergens are being tested on the actual skin of the patient, it is almost certain that the patient will experience an allergic reaction and its symptoms, if the patient is indeed allergic to the substance in question. The symptoms of an allergic reaction range from mild to moderately serious, such as swelling and the appearance of itchy red bumps or wheals. There is also a risk of a severe and life-threatening allergic reaction, although this is very rare.
Since an allergy test is conducted safely within the confines of a hospital or clinic and under the watchful eye of an attending physician, all allergic reactions that actually occur are promptly treated. If a person is proven to be allergic to a certain substance, the reaction can either be treated or the person will be asked to avoid that substance altogether. This will help prevent the symptoms and reduce the risk of complications.
Knowing what foods or substances a person is allergic to is an important part of his health maintenance. If it is possible, the best way to prevent an allergic reaction is to find out what is causing it and to avoid it. If it cannot be avoided, treatment may ensue, and this may take two forms: relieving allergy symptoms or treating the allergy itself to reduce allergic attacks even with exposure to the said allergen.
References:
Bernstein IL, Li JT, Bernstein DI, Hamilton R, et al. American Academy of Allergy, Asthma and Immunology; American College of Allergy, Asthma and Immunology. Allergy diagnostic testing: an updated practice parameter. Ann Allergy Asthma Immunol. 2008;100(3 Suppl 3):S1-S148.
WHAT IS SKIN TESTING FOR ALLERGIES?
Skin-testing is a method that physicians use to see whether a patient's exposure to specific substances provokes an allergic response. So-called immediate-type skin testing is used to diagnose the kind of allergies that occur very quickly after exposure to an allergen. Allergies that appear several hours or more after exposure usually are not identified with skin testing.
WHAT IS AN ALLERGY?
An allergy is an adverse reaction from an immune response to something that contacts the body, is inhaled, or ingested. The reactions include sneezing, wheezing, coughing, itching, skin rashes, stomach pain, diarrhea, or even a fall in blood pressure, which can cause dizziness or passing out. With proper management and education, people with allergies can lead healthy, normal lives.
HOW IS SKIN TESTING FOR ALLERGIES DONE?
Extracts are made from common allergens. These allergens might include various types of grass, trees, and weeds pollen; mold spores; animal dander; cockroach or dust mite debris; and certain foods. The extracts are placed either on the skin or they are injected just beneath the surface of the skin.
Percutaneous ("Prick") Method. A drop of each allergen extract is placed on the skin, either the lower arm or back. Then, pricking, puncturing, or scratching lightly breaks the topmost layer of skin under the drops. This pricking allows the extract to seep into the skin.
Intradermal Method. The allergen extract is injected under the first few layers of skin using a very thin needle. This method is more likely than the prick method to give a positive response; however, these results are more often "false positives".
Quick fact . . . False-positive results are reactions to an extract even though the patient does not develop any symptoms when exposed to the allergen.
HOW MANY ALLERGENS ARE USUALLY TESTED AT ONCE?
Depending on a particular patient's history, anywhere from 10 to about 50 different allergens are tested.
IS SKIN TESTING PAINFUL?
Prick skin testing is not an uncomfortable procedure for most patients. Intradermal skin tests cause some discomfort as the allergen is injected. Either type of skin testing may also cause some itching.
WHAT DO THE RESULTS OF THE SKIN TEST MEAN?
After the allergen extracts are placed on the skin, your physician looks for signs of an allergic response. A positive response appears in the form of a raised bump or wheal, surrounded by a red area, or flare. The size of the wheal and flare shows roughly how much allergic IgE antibody you have made to that allergen.
Usually, with a prick test, the raised area must be at least three millimeters (about one-tenth of an inch) across to indicate a positive reaction. With an intradermal test, an even larger reaction is required.
A positive test only shows that you have made allergic IgE antibodies to the allergen. It does not necessarily mean that you will have allergy symptoms when you are exposed to that allergen, or that the allergen is a cause of your symptoms. This is one reason why your skin test results need to be carefully correlated with your history by an allergy specialist to determine what you are actually allergic to.
HOW SHOULD PATIENTS PREPARE FOR SKIN TESTING?
To be accurate, allergy skin tests require that all antihistamines be completely out of your system. You should stop taking all antihistamines three to seven days prior to your skin testing depending on the particular antihistamine you are taking. You should, however, continue to take any nasal steroid sprays and all asthma medicines since these will not interfere with skin testing.
WHO SHOULD GET SKIN TESTING TO DIAGNOSE ALLERGIES?
Skin-testing is useful for anyone who wants or needs to identify specific allergy triggers. Anyone, regardless of age, can be skin tested for allergies.
WHAT HAPPENS IF THE SKIN TEST IS POSITIVE FOR ALLERGIES?
By pinpointing the specific allergens that trigger your allergy symptoms, your physician can create a treatment plan to address your specific symptoms. For instance, if you are allergic to substances such as dust mites or animal dander, you can take steps to limit your exposure to them.
ALLERGY SHOTS CAN HELP TREAT KNOWN ALLERGIES. IN SOME CASES, YOUR PHYSICIAN MAY ADVISE IMMUNOTHERAPY — ALLERGY SHOTS — TO HELP TREAT YOUR ALLERGIES. THE ALLERGY SHOT USES AN EXTRACT CONTAINING VERY SMALL AMOUNTS OF THE SPECIFIC SUBSTANCES THAT YOU ARE ALLERGIC TO. OVER TIME, GETTING THE INJECTIONS AT REGULAR INTERVALS CAN LESSEN YOUR IMMUNE SYSTEM'S RESPONSE TO THESE ALLERGENS.
ARE THERE ANY POSSIBLE SIDE EFFECTS TO SKIN TESTING?
There are extremely rare reports of patients having systemic allergic reactions to skin testing such as hives or wheezing, so testing should be performed in a facility capable of treating a reaction should it occur.
WHAT KIND OF PHYSICIAN DOES SKIN TESTING TO DIAGNOSE ALLERGIES?
Board-certified or board-eligible allergists/ immunologists specialize in testing for and treating allergies of all kinds.
DOES HEALTH INSURANCE COVER SKIN TESTING FOR ALLERGIES?
Health coverage for allergy testing may vary. Check with your insurance carrier for details. Some things you may want to find out might include:
Do you need a referral from your internist, family physician, or pediatrician to an allergist or immunologist for skin testing to diagnose allergies?
What coverage is offered for pre-existing conditions?
Related Posts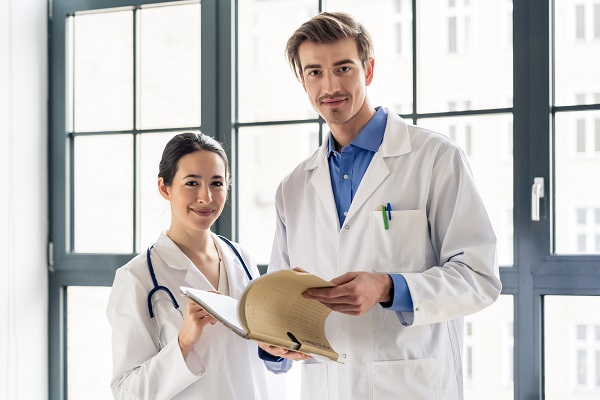 Your primary care doctor is a valuable resource for keeping you healthy. Regular appointments with your doctor are important for both the prevention of illness and the management of your health. In this article, we'll take a closer look at the benefits of seeing a primary care doctor along with three key signs it may…