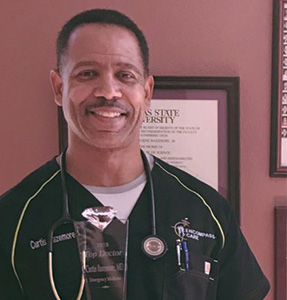 At Encompass Care, we strive to provide efficient, convenient and high-quality healthcare with a personal touch for our patients. We apply our core values of integrity, innovation, efficiency, respect, compassion, community and commitment to everything we do. Operating as a walk-in, urgent and primary care clinic, we provide treatment for a variety of illnesses and conditions in patients of all ages.
---
While we provide immediate treatment for an injury or illness, we also provide assistance with long-term conditions or health goals. For instance, we can provide a weight management plan for patients interested in losing weight and remaining healthy. At Encompass Care, we work to provide treatment that is affordable and that one can easily integrate into one's lifestyle.
---
Meet The Doctor
---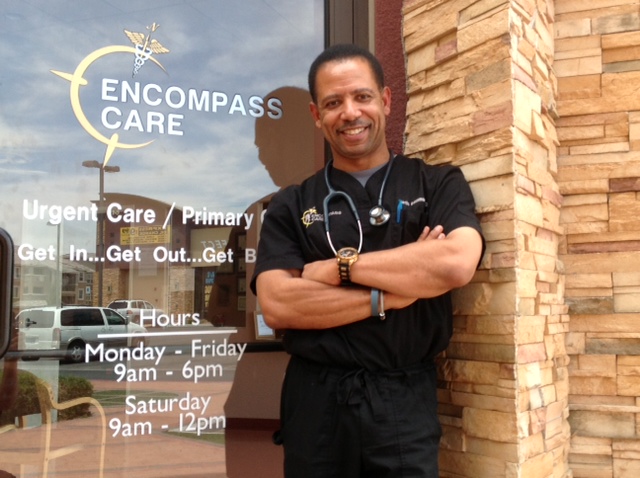 Curtis E. Bazemore, Jr. M.D.
Residency trained in Emergency Medicine, Dr. Bazemore is pleased to accept new patients at his private practice for Urgent and primary Care. The entire family is welcome by appointment or walk-in basis. Most insurance plans are accepted. Dr. Bazemore has been serving Las Vegas since 1997 in area Emergency Departments; Lake Mead Hospital, Summerlin Hospital, Desert Springs Hospital, Valley Hospital and Mountain View Hospital. He graduated from University of Kansas Medical School and completed his residency in Emergency Medicine at the prestigious Howard University Hospital. After a year at Storemontvail Hospital in Kansas, he moved to Las Vegas to continue his Emergency Medicine practice. Las Vegas is home where he resides.
Based on Dr. Bazemores' extensive knowledge and experience in emergency medicine, he has the skills and qualifications to cater to your primary and urgent health care needs.
Meet The Team
---
Courtney
Courtney is our appointment scheduler, she is our point of contact to schedule, reschedule or cancel any appointment. She can be reached by calling the office and choosing option 2.
Nicolette
Nicolette is our Prescription guru. Nicolette oversees all prescription refills, changes and clarifications for our practice. She can be reached by calling the office and choosing option 3.
Irma
Irma is our bilingual back office medical assistant. She is able to help us be more available and understanding to our Spanish speaking patients. Irma also can help patients with any questions related to procedure requirements or any questions related to back office. She can be reached by calling our office and choosing option 4.
Ervin
Ervin is our referrals department. He oversees any referral requests. He is reachable by calling the office and selecting option 5.
Eugene
Eugene is our practice manager. He handles the office flow and day today workings. He is also available to address any concerns that patients have. He is reachable by calling the office and selecting option 6.